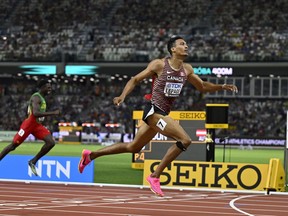 Article content
Pierce LePage has one more mountain to climb, one more goal to reach.
Article content
The Whitby native made history on Saturday, striking gold in the men's decathlon at the World Athletics Championships. He became the first Canadian to win a world title in the event.
Article content
His 8,909 points were not only a world-leading score and personal best — his previous best was 8,701 in his silver-medal effort at the 2022 worlds — it was also the sixth best performance ever.
All that eludes the 27-year-old now is the title of Olympic champion.
"I feel like every track athlete wants to be an Olympic champion," he said in a Zoom interview. "I'm world champion now, so that's what's missing.
"I want to be an Olympic champion and I'm going to do everything in my power to become the Olympic champion."
Canadian athletes storm the podium for four medals on Saturday at world athletics championships

Andre De Grasse, Pierce LePage, Camryn Rogers among Canadian headliners for world championships
Article content
While LePage views the added attention he will get ahead of the 2024 Paris Olympics as a "motivator," he said it's just a matter of continuing to put it all together.
"I always knew I was capable of these scores or results," he said. "I think if you add up all my PBs (personal bests), it's like 9,300 or 9,200 points. I always knew it was there, it's just about getting it all together.
"I think it's just the same thing I had been doing the past couple of years with my coach, just improving consistency, making sure when I get to an event if I throw a 50 (metres) in discus, I'm not throwing 45. Throwing close to my PBs.
"I think if we keep doing that, it's going to show up in Paris and we'll get a high score as well."
The world title win is now starting to set in for LePage, who reached the goal of 8,900 points he set for worlds following his Hypo Meeting victory in late May.
Article content
"I feel like it's creeping in a little more and more," he said. "I guess what I actually did, where it's like, 'Yeah I won, but it was also sixth all-time score, second best at the championships.'
"At the time I was like, 'Yeah, I did pretty well,' but now I'm like, 'Wow, I actually did pretty well.' It was a pretty good result in history and I'm pretty happy and proud of it."
LePage is still deciding on either competing in one more event or beginning his off-season, one he looks forward to for multiple reasons.
"Definitely eating junk food and sleeping and playing video games and not have to run around a track and do 10 events," he said. "I cherish my off-season and my off time, so just making the most of that."
LePage has battled through multiple injuries over the years.
Article content
He finished fifth at the Tokyo Olympics in 2021 while dealing with a torn patella in his right knee.
In his breakout moment, the silver he earned at the 2022 worlds, he competed through a torn patella in his left knee.
"Going into Day 1 was probably the best my body's felt in a long time," he said. "(In previous years) the decathlon was always like, 'What can I do to get through the decathlon?' and not necessarily, 'What can I do to win the decathlon?'
"I feel like I came (to Budapest) ready and I thought to myself, 'What can I do to win the decathlon?'"
RECOMMENDED VIDEO
The win wasn't pretty for LePage, who fought through a number of ailments.
He hurt his shoulder in the long jump and his knee in the high jump on Day 1. He also pulled a hamstring in the 110-metre hurdles — where he took the lead for good on Day 2 — with four events to follow.
Article content
But as he put it with a smile, "Decathletes are built different, what can I say?"
While he refers to the last 13 months as "vindication," he described his entire journey to this point as a "roller-coaster.
"I don't think if you asked 12-year-old Pierce or 16-year-old Pierce or even when I first started decathlon if I was ever going to be world champion, I'd probably be like, 'You are so incredibly wrong,'" he said.
"It's been a roller-coaster from even starting decathlon. From just sitting in my house playing video games not doing sports to getting a call from my coach saying he wants to train with me and then suddenly hopping in the decathlon to being national champion in the decathlon, through winning an international event to going to the Olympics.
"All of this stuff just feels like, 'Huh, huh, huh, like what's going on?' But I feel like now I'm in it and I know I can do these things and I'm going to do these things."
Reigning Olympic decathlon champion Damian Warner finished second at the worlds, giving Canada a potentially potent one-two punch heading into Paris.