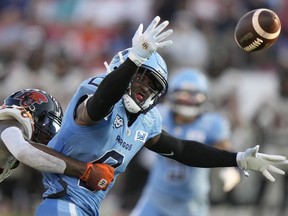 Article content
The second time around will have a little extra juice for Robertson Daniel.
Article content
The Toronto Argonauts return from their final bye week of the season Friday night to host the Calgary Stampeders at BMO Field. Three weeks ago, the Stamps handed the defending Grey Cup champions their lone loss of the season, a 20-7 decision at McMahon Stadium.
Article content
"This is a big game for us, for sure," Daniel said Thursday following Toronto's walk-through. "When you lose to a team, it just is when you face them again, that's just the reality of life.
"We like to say all games are the same. No, they're not. We lost to a team, this game means more."
Robertson was very busy in the first matchup. The Toronto defensive back registered a team-record 16 tackles, one short of the league record set in 2019 by Hamilton linebacker Simoni Lawrence, as Calgary ran for 168 yards on 36 carries (4.7-yard average).
Article content
"I'll do whatever is needed," Robertson said. "We're going to play better this game, so I probably won't have to make 16 tackles."
Dedrick Mills led the way for Calgary with 137 yards on 27 carries versus a Toronto defence that was ranked second against the run at the time. With 2022 CFL rushing leader Ka'Deem Carey (thigh) out, Mills will again handle the bulk of the Stampeders' carries.
Attendance, game-day revenue up in Toronto, other major CFL markets

SIMMONS: QB Chad Kelly doing Doug Flutie-like things for first-place Argonauts

Argonauts, Blue Bombers cream of crop halfway through CFL season
"They run some very good concepts that they work off of their run game … and it's a challenge," Robertson said. "I'm guessing that's going to be their game plan, to minimize their turnovers and want to stay on the field.
Article content
"If that's what they're doing, then the sticks are going to be big for them, moving that ball and getting first downs."
The run was definitely big for Calgary (3-7), which finished with 305 net offensive yards. Quarterback Jake Maier — the CFL passing leader with 2,398 yards — completed 22 of 24 attempts, but only for 149 yards.
"We have to make sure we stop the run, keep them in second-and-long and make them make some throws to beat us," said Toronto head coach Ryan Dinwiddie.
Toronto (7-1) trailed 10-7 when it lost starting quarterback Chad Kelly to an ankle injury late in the first half in Calgary. Backup Cameron Dukes was intercepted in the Stampeders end zone to set up the game's turning point.
Calgary was forced to punt on the ensuing possession, but Javon Leakes fumbled while trying to field the kick. Michael Griffin recovered in Toronto's end zone to give the Stampeders a 17-7 halftime advantage.
Article content
Kelly (four of six passes for 94 yards and a TD) never returned for Toronto. Dukes finished eight of 15 passing for 63 yards and the pick as the Argos mustered just 202 net offensive yards.
"It was just a sloppy game all around," Dinwiddie said. "The plays were there, we just didn't execute well.
"It didn't feel like we brought a lot of energy."
RECOMMENDED VIDEO
Kelly will return under centre for a Toronto offence that's averaging a CFL-high 28.8 offensive points per game. But Dinwiddie said establishing a strong ground game will be important for the Argos, who boast the league's third-ranked rushing attack (115.8 yards per game).
"We have to run the ball on first down, we have to get that established," Dinwiddie said. "I thought the last time they did a good job of stopping our run and then we got away from it."
Article content
Toronto has won five straight games coming off a bye week, including two this year. Leaguewide, teams are 9-3 following a week off.
But Calgary has won three straight games versus Toronto and looks to extend its road win streak against the Argos to nine games. What's more, Stampeders head coach/GM Dave Dickenson is 11-1 versus the Double Blue, while Dinwiddie is 1-3 in games against his former team.
Dinwiddie served as Calgary's quarterback coach from 2016-19 before becoming Toronto's head coach.
Calgary has outscored Toronto 271-130 during its eight-game road win streak.
Toronto begins the first of 10 games in as many weeks and Dinwiddie said he'll be smart about how he manages his team during that span.
"It's not the schedule we wanted, but it's the schedule we got," he said. "We'll just have to deal with it.
"It allowed us to be healthy in the first little bit. Now we have a big stretch and just have to take one game at a time. There will probably be guys we have to rest at some stage of the next 10 weeks."