'Not since Barbenheimer has the country come together in sheer unbridled joy'
Get the latest from Mark Daniell straight to your inbox
Article content
As far as social media fans are concerned, Taylor Swift is "smitten as a kitten" with Travis Kelce.
Article content
As advertised, the pop star rolled into Met Life Stadium Sunday night to watch her rumoured beau and his Kansas City Chiefs defeat the New York Jets 23-20.
Article content
Swift, wearing a long-sleeved black top and leather jacket, was captured throughout the night cheering on Kelce alongside her A-list pals Ryan Reynolds, Blake Lively, Hugh Jackman, Sophie Turner, Brittany Mahomes and Kelce's mother, Donna.
But it was Swift's flirty comment to Lively after the game that both Swifties and casual fans were gabbing about Monday morning.
"OK lip readers … now's your chance," celebrity poster DeuxMoi wrote on Instagram sharing a clip of Swift joking around with Lively after the game's end.
"Look at him!" the singer, 33, playfully said as she imitated Kelce roughhousing with his teammates following the Chiefs' third win.
Article content
As Swift accidentally connected with her friend Ashley Avignone, Lively laughed in response.
Article content
On Instagram, fans called her actions "cute" and cheered on the rumoured romance.
"She's so into him," one follower wrote, while another added, "Who can blame her?"
A third person wrote on X, formerly Twitter, that the pair had the chance to unite a divided America.
"Not since Barbenheimer has the country come together in sheer unbridled joy and happiness over something that will have no lasting impact on anyone. Let people enjoy stuff."
Ratings for the Sept. 24 game, in which Swift watched the Chiefs trounce the Chicago Bears at Arrowhead Stadium, totalled 24.3 million viewers. This week's match, though, was expected to far exceed that number.
Swifties have been quick to embrace the Chiefs tight end, with sales for Kelce's No. 87 jersey spiking nearly 400%.
Article content
During an episode of his of the New Heights podcast he co-hosts with his brother Jason, Kelce, used to the spotlight as one of the NFL's biggest stars, said his life has undergone a transformation since he's been romantically linked to Swift.
"I'm on the roller-coaster, man, the roller-coaster of life," he said. "I might have noticed a few things, like paparazzi outside my house."
Her appearance at the two games came after the eight-time Pro Bowler said during a chat on The Pat McAfee Show that he "threw the ball in her court" and invited Swift to watch the Chiefs play.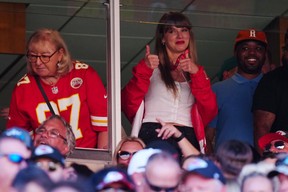 "I've seen you rock the stage at Arrowhead," he recalled telling her. "You might have to come see me rock the stage at Arrowhead and see which one's a little more lit. We'll see what happens in the near future."
Article content
Kelce first expressed his interest in Swift earlier in the summer when he said he was "butt hurt" when he attended a Kansas City stop on Swift's Eras Tour and she didn't have time to meet up.
"If you're up on Taylor Swift concerts, there are friendship bracelets," Kelce said in the New Heights podcast. "And I received a bunch of them being there, but I wanted to give Taylor Swift one with my number on it."
But not everyone is a fan of the coupling.
Several right-wing media personalities also took a swipe at Kelce, including former Fox Sports commentator Clay Travis. "Travis Kelce is doing Bud Light and COVID shot commercials. He needs to fire all his marketing agents. Or he needs to just go ahead and cut his d*** off, become a chick, and endorse Joe Biden," Travis wrote.
Article content
Fox News commentator Tomi Lahren shared clip of Kelce's commercial for Pfizer's COVID-19 vaccine and asked: "Is this what happens when you date Taylor Swift?"
Article content
Megyn Kelly called the two-time Super Bowl winner "super woke," adding, "he's with Taylor, he endorsed Bud Light post controversy and he's pushing the Pfizer vaccine."
Former U.S. President Donald Trump weighed in on the relationship brewing between Swift and Kelce during an interview with the Daily Caller.
"I wish the best for both of them. I hope they enjoy their life, maybe together, maybe not — most likely not," Trump said.
But Swift isn't afraid to speak out against right wingers. In 2020, she endorsed Joe Biden and hit out at Trump after a late-night tweet in which he threatened violence against protesters in Minnesota.
"After stoking the fires of white supremacy and racism your entire presidency, you have the nerve to feign moral superiority before threatening violence? When the looting starts the shooting starts'???" the pop icon raged tagging Trump in a social media post, adding, "We will vote you out in November."
Article content
Meanwhile, The View's Sara Haines dismissed the supposed romance as a "publicity stunt."
"I'll let you know when I don't care. This is a PR stunt, this whole thing, and I'm just not that interested in it, because it feels like you're giving air to a publicity stunt," Haines told executive producer Brian Teta on Monday's instalment of the Behind the Table podcast. "She does not need more expensive concert tickets that are hard to get. Like, she's good. We're good."
"This is nuts. The NFL is simping for Taylor," Barstool Sports founder Dave Portnoy tweeted.
But Valerie Bertinelli defended Swift and Kelce's burgeoning romance amid claims the coupling is a "PR move."
"Can all of you Negative Nellies just stop? Stop!" the Food Network star said on TikTok. "Let the rest of us enjoy watching two successful, funny, talented, incredibly gorgeous human beings — let us enjoy watching them fall in love."
Article content
Swift and Kelce left Sunday night's game separately, but he was spotted leaving her New York City apartment earlier in the day.
Following last week's tilt at Arrowhead, the pair appeared to confirm their budding romance after exiting the stadium together.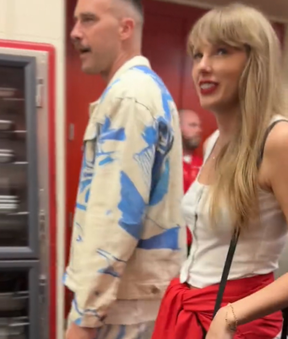 In photos obtained by TMZ, a smiling Swift was seen wrapping her arm around the football star, who was perched on a barstool at Kansas City's Prime Social restaurant.
Days later, a source exclusively told Us Weekly that the pair had "been on a few dates and Taylor is smitten with him," saying that they met through a mutual friend. "It is not serious, and Taylor is having fun right now."
But the insider added, "anything is possible … they're getting closer and closer every day."
Meanwhile, the Daily Mail has learned that the duo are already thinking about costume options for Halloween, even floating the idea of dressing up as Barbie and Ken.
"The whirlwind that this relationship has started is something that Taylor is familiar with, and Travis is OK with," a source told the outlet.
Recommended from Editorial
Taylor Swift and Travis Kelce pack on PDA after Chiefs game

Taylor Swift fans think she left Travis Kelce suite in a popcorn cart: 'SHE'S IN THERE'

Inside the Eras Tour: Taylor Swift reinvents stadium experience with latest concert trek