Get the latest from Steve Simmons straight to your inbox
Article content
The end for Mike Babcock as an NHL coach was neither sad nor sentimental — just more bull-headed narcissism for a man who no longer seems capable of getting out of his own way.
Article content
He tripped over his words, his actions, his intentions and his thoughts before he coached so much as a game or a practice for the Columbus Blue Jackets.
Article content
You can say this much about Babcock now, the one-time star coach of the Detroit Red Wings, Team Canada and the Toronto Maple Leafs: His NHL career is ostensibly over.
Mike Babcock resigns as coach of the Columbus Blue Jackets

NHLPA execs meeting with Blue Jackets players over Mike Babcock reports
Coaching Columbus was his shot at redemption and it fizzled out before a shot was even fired. Instead, his own version of Goodbye, Columbus was not a Philip Roth novel, but an epitaph for a once-terrific career.
The end for Babcock in Columbus began with a player-leaked story to a podcast — one of his players, clearly, and never identified. The story exploded within days of the original report by former NHL player Paul Bissonnette on Spittin' Chiclets — and from there it just got worse. The NHL got involved. The players' association, clearly on direction from some of its members in Columbus, got involved. The very experienced and wise Blue Jackets front office, led by John Davidson and Jarmo Kekalainen, got involved.
Article content
By then, it seemed obvious the team needed a new coach, even as the Blue Jackets originally tried to make Babcock's peering into his players' cellphones and attacks on privacy to be nothing more than a misunderstanding. The Jackets couldn't have Babcock representing their organization any longer — as a coach, as a spokesman and, maybe just as important, as a leader of men.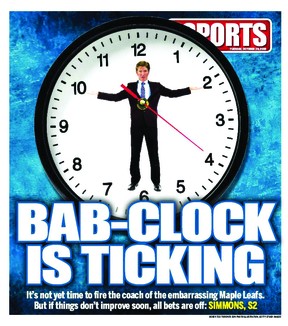 Babcock's final years with the Maple Leafs exposed some of his personal weaknesses and over the years more stories have surfaced about who he was — and, maybe more importantly, who he wasn't.
The fall from grace in Toronto was enough to push him away from NHL conversations for years. This was to be his return, his attempt to repair his shattered reputation. That he didn't make it to the first day of camp almost means his reputation cannot be cleaned up now.
Article content
He was yesterday's coach, if in fact he was that, and this is today. And today, you have to treat people with dignity, like they're people. You have to understand who you're dealing with. Coaching isn't all about making lineups and running drills in practice and running players down. It's about people. It's about communication. It's about humanity.
Too much of Babcock over the years has been about Babcock.
And his style, like his time in Toronto and then Columbus, is no longer pertinent or welcome in today's modern sporting culture.
RECOMMENDED VIDEO
A week ago, before the story broke on Spittin' Chiclets, before there was concern about how Babcock would relate to his players, you could make the case that, maybe one day, he would wind up in the Hockey Hall of Fame. He had that kind of resume.
Article content
He coached Anaheim to the Stanley Cup final in his first year in the NHL. He won a Cup and lost a Cup and had eight 100-point seasons in 10 years with the Detroit Red Wings. He coached Team Canada to gold in Vancouver in 2010 and then repeated gold four years later in Sochi in what might be the most dominant Canadian performance in Olympic history. He was coach of a World Cup-winning team for Canada and had three terrific seasons of five in Toronto — the first three in Auston Matthews' and Mitch Marner's time as Maple Leafs — before losing the team, his way and, for the very first time, his job.
There is so much excellence on his resume — the beginning with the Ducks, the 10 years in Detroit, the Olympic golds, the changing of coaches' salaries in hockey forever, the very sound seasons in Toronto — and then, with a mirror in front of him, so much personal defeat. He couldn't understand he was doing anything wrong. This is what happens when coaches — or people, for that matter — lose their way and lack self-awareness.
Article content
They trust their instincts, but their instincts are wrong. Their instincts go missing with time. So the NHL, the players' association and the Columbus front office essentially combined to fire Babcock. As with most firings these days, they called it a resignation. They called it an agreement to part ways.
No coach as stubborn as Babcock, as smart and skilled as he is, as dumb as he can be, ever decides to walk away. But the news release never reads that way anymore. The news release rarely tells the whole story.
Babcock's inability to be part of today's world, to be modern, to be pertinent, ended his time in Columbus before it ever really began. He tripped over his own arrogance and lost his way.
His record remains mostly brilliant.
The ending is not regretful. The ending was necessary, authored by the coach himself.