Get the latest from Brad Hunter straight to your inbox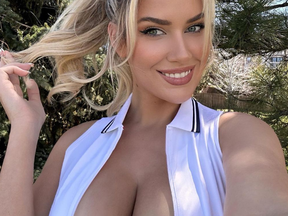 Article content
Golf glamour girl Paige Spiranac's emotions are in the rough following the United States' Ryder Cup defeat.
Article content
But the 30-year-old sports influencer was gracious in losing.
Article content
She tweeted: "Well played Europe. This Ryder Cup turned out to be a great one to watch! Loved all the passion shown on both sides."
Article content
Team Europe bested Team USA 16½-11½ at Rome's Marco Simone Country Club over the three-day event with Brit captain Luke Donald sipping the champagne.
Passion indeed. Tempers exploded on Saturday night between star Rory McIlroy and Patrick Cantlay's caddie Joe LaCava. But on the links, Team Europe played it cool in the singles event to take the title.
Article content
Tommy Fleetwood's spectacular drive that landed on the 16th green helped him win the hole against Rickie Fowler. That put Fleetwood up two with two holes to play — guaranteeing him at least that crucial half to get Europe into the winner's circle.
After Fleetwood won that 16th hole, a fan emerged from the gallery and evaded security to sprint across the green. The supporter bore a striking resemblance to Colonel Harlan Sanders of Kentucky Friend Chicken fame.
The fan tossed his hat and jumped into the lake. Spiranac joined in with a 'Colonel Sanders' meme.
Scores of Euro fans responded in kind — and Spiranac caught the drift. She shared the viral clip of the rogue spectator and added a comment to lift the spirits of the defeated Americans.
Spiranac wrote: "When mom says the bagel bites are ready."
Article content
As for the McIlroy-Cantlay to do, it seems Spiranac was on the side of the Irish golfer. Earlier in the weekend she slammed Cantlay for refusing to wear a Team USA cap as part of his reportedly being perturbed with a Ryder Cup pay dispute.
According to reports, a locker room brouhaha over the issue lead to Cantlay and Xander Schauffele sitting away from the rest of Team USA.
Spiranac wrote: "Really goes against the whole we play for pride and not money LIV narrative lol."
@HunterTOSun