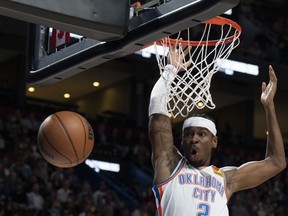 Article content
At first glance, there does not seem to be a lot in common between Canadian basketball star Shai Gilgeous-Alexander and legendary drummer Neil Peart of Rush.
Article content
Oklahoma City Thunder general manager Sam Presti sees quite a similarity between the two Hamiltonians, however.
Article content
Peart was known to fans of the iconic Canadian rock band as "The Professor" — a nickname Presti finds quite fitting for Gilgeous-Alexander. Peart was inducted with Rush into the Rock & Roll Hall of Fame in 2013 and died in 2020.
"He's like a professor because he goes back to Hamilton and he puts himself in the laboratory and he comes back better," Presti told The Canadian Press on Thursday before Oklahoma City took on the Detroit Pistons for an NBA Canada Series pre-season game at Bell Centre.
"I don't know that Shai realizes that he's sharing that connotation with another legend. But both are very similar in their approach, because they're very precise, very well thought out, and they're both technicians, and that's the way I would look at Shai."
Article content
Presti traded star player Paul George to the Los Angeles Clippers in 2019 for Gilgeous-Alexander, Danilo Galinari and five first-round draft picks to jump start Oklahoma City's rebuild.
Gilgeous-Alexander, then coming off a promising rookie season, has since blossomed into one of the league's elite players, a shifty scorer and playmaker who averaged 31.4 points and 5.5 assists last season. ESPN has him eighth in player rankings going into this season, one spot in front of LeBron James.
Presti credits "a learning mentality" for the 25-year-old Gilgeous-Alexander's progress, and expects him to keep evolving.
"His game changes. The things that we see today as his most identifiable traits and movements, in two to three years they're not going to be the same, that's what happens with great players, because they're going to respond to the way defences defend them, the way rules change, and then they're gonna keep scaling their game," he said. "The things that we know today about him are just like one chapter in what's going to be a very long book."
Article content
Presti said Gilgeous-Alexander has also emerged as a true leader for his Thunder squad.
"His fingerprints are going to be all over whatever happens from here because he's such a lead role and was in at the very ground floor, and has led through some challenging times," said Presti. "And as a result of that, I think has grown immeasurably."
DORT REMINDS OF THE EXPOS
If Gilgeous-Alexander is Neil Peart, then who is fellow Canada Basketball and Thunder player Lu Dort?
Dort, who was the man of the hour when they NBA descended on his home city of Montreal on Thursday, reminds Presti of former Montreal Expos player Tim Raines, one of MLB's all-time best leadoff hitters.
"When I was a kid growing up, my favourite baseball player was Tim Raines," said Presti, who reminisced about the old Expos teams when he drove into Montreal. "For whatever reason, I loved the 'Rock'. He was a great player, and when I look at Lu, he's kind of built like Tim Raines.
Article content
"I don't know that Tim Raines is as good a defender but I'm sure Lou wouldn't be as good a base-stealer."
Dort led all scorers with 24 points on Thursday and received numerous standing ovations from his hometown crowd, saying he nearly shed a tear.
Defence, however, has always been his calling card. Dort signed with the Thunder on a two-way deal after going undrafted in the 2019 NBA draft and quickly became one of the team's top defenders, making waves with the way he slowed James Harden down in the 2020 playoffs.
Presti said Dort has stayed true to that defensive identity despite developing into one of the team's more experienced players, even though he's 24 years old.
"Every year he comes back with a better understanding of just how he can impact the team on both ends of the floor, but not without losing his core identity as a player as a really physical, effective, individual and team defender," said Presti. "That's really how he made his entrance into our world, and he's held on to that, which I think is pretty special thing and shows a lot about his character, that he's continued to maintain the things that make him who he is as a player."
Article content
Presti said he wouldn't put a ceiling on what level Dort can reach as a defender while he continues to round out his offensive game.
"He's really just kind of getting started, because the other thing for him is he's really learning the personnel in the league," said Presti. "He's learned how to defend different players, what works, what doesn't work. I think he's understanding the officiating and what's a foul and what's not what's going to be called, and that all comes with experience."
Recommended from Editorial
Charlotte Hornets' Miles Bridges turns himself in after arrest warrant issued over protection order

GANTER: New coach Darko Rajakovic quick to gain the Raptors' respect
CANADA BASKETBALL EXPERIENCE
Gilgeous-Alexander and Dort also teamed up on the Canadian men's basketball team at the FIBA World Cup in September, helping Canada win bronze and secure a spot in next year's Olympics.
Article content
Presti said the experience of playing in that environment is invaluable.
"I think a diversity of play, different teammates, different environments, different opponents, different rules, all of that helps younger players round out," he said. "The more playing experiences, environments they have, it does benefit our team, and I know that people at Canada Basketball are doing a great job."
Presti is also impressed with Canada Basketball's rise as a whole.
"What we're seeing now didn't just happen overnight, people have put down roots and a plan and a vision years and years ago, and we're starting to see and have already started to see the benefits of that long term commitment to the sport," he said. "It's really impressive to see the level of talent that has been developed and has continued to emerge from the country. It's a result of getting people excited about playing basketball."