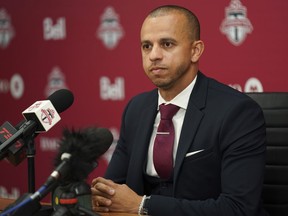 Reviews and recommendations are unbiased and products are independently selected. Postmedia may earn an affiliate commission from purchases made through links on this page.
Article content
Some seven weeks into his tenure as Toronto FC general manager, Jason Hernandez's to-do list remains extensive.
Article content
A win would be nice. So would a goal. A permanent head coach is needed.
Article content
While Hernandez has already made some roster moves, pulling the 3-11-10 MLS club out of its nosedive is clearly going to take time.
"We are going to build this thing out into the machine that it can be," Hernandez said in an interview. "It just won't happen by tomorrow morning. But the work is ongoing and the desire and our ability to do so is there."
Promoted from assistant GM on June 27, the day after Bob Bradley was fired as head coach and sporting director, Hernandez inherited a 3-7-10 team that had won just two of its previous 17 matches (2-7-8) in all competitions.
The club had yet to hit rock-bottom, however. That came in July when it lost six straight in all competitions and was outscored 13-0.
Article content
Toronto returns from a three-week break to host CF Montreal (9-12-2) on Sunday, the first of 10 remaining league games.
With the likes of captain Michael Bradley, Italian star Lorenzo Insigne and Spanish veteran Victor Vazquez available again after injury layoffs, Hernandez's question for the rest of the season is "How good can we be?"
The club got some unwelcome news Wednesday with goalkeeper Sean Johnson ruled out for four to six weeks with a broken hand.
The recent time off has been a chance to reset, said Hernandez, who acknowledges that a mid-season coaching change does not mean "all rainbows and sunshine from here."
"The reality is when you make a decision such as this midstream, it typically gets harder before it gets easier," he said. "There is no magic wand that you're going to (wave) over the team."
Article content
Toronto has not won since May 27, when it defeated visiting D.C. United 2-1. It has not picked up a point since June 10 in a 1-1 tie with visiting Nashville SC. And its most recent goal came on June 24, when Deandre Kerr scored in a 2-1 loss at the New England Revolution, two days before Bradley was axed.
Toronto has lost eight straight in all competitions and is winless in 11 (0-8-3). It has won just once in its past 17 games (1-12-4).
Toronto is 14th in the Eastern Conference, with four teams and 11 points separating it from the last playoff berth. It sits 28th in the overall league standings with only Inter Miami below. Miami is one point behind with two games — and Lionel Messi — in hand.
Hernandez, who turns 40 on Aug. 26, says TFC is close to a coaching decision, although he acknowledges that could be keeping Terry Dunfield in the interim role for the remainder of the season.
Article content
Hernandez was handed the GM job just days before the MLS secondary transfer window opened July 5. And he was left to negotiate the window without scouting guru Jack Dodd, who left in mid-May to become technical director of the Portland Timbers.
Under Hernandez, Toronto has traded midfielder Mark-Anthony Kaye to New England and defender Matt Hedges to Austin and loaned strikers Ayo Akinola to San Jose and Jordan Perruzza to the CPL's HFX Wanderers.
New faces include midfielders Franco Ibarra (on loan from Atlanta) and Latif Blessing (acquired in the New England deal) and forwards Cassius Mailula and Prince Owusu, who arrived from South Africa's Mamelodi Sundowns and Germany's SSV Jahn Regensburg, respectively.
Article content
TFC also placed veteran forward Adama Diomande on the season-ending injury list.
While the MLS transfer window is now closed, Toronto could still acquire a free agent. And other leagues are still able to deal so Hernandez can move players.
"Certainly from a league results standpoint, we've come up way short and missed the mark," Hernandez said. "(But) there's no doubt that we still have players that have quality, players that are of interest to other teams and other leagues outside of MLS."
"What I would say is our position in the standings dictates that we cannot be closed to anything," he added. "We have to entertain all things within reason."
Speculation on a possible move continues to surround mercurial Italian forward Federico Bernardeschi, who famously butted heads with Bradley earlier this season.
Article content
But Hernandez insists everyone still in the TFC locker room wants to be there, including Bernardeschi and Insigne.
"The idea is how many pieces can we put around those guys such that they can achieve individual success and we can achieve team success. I think we moved the needle in the right direction," the GM said.
Hernandez says he spoke to the players after taking over as GM, offering to move anyone who wanted out.
Hedges was one who took him up on the offer. The 33-year-old centre back, who joined Toronto in the off-season as a free agent after 11 seasons with FC Dallas, returned to Texas in late July in a trade with Austin FC that netted TFC up to up to $475,000 US in general allocation money.
"He came here with all the right intentions … but the reality is that he and his family have had a tough go of assimilating and getting accustomed to Canadian life. They certainly missed home. They missed the (United) States," Hernandez said.
Article content
And while Hernandez called a healthy Hedges the team's best defender, he says the club is better off without the defender's contract which he described as "player friendly" with certain guarantees and triggers in its later years.
Hernandez says the team's salary cap, which he described as "a challenge" in recent years, is in the best shape it has been "probably in the last four years."
"I think it bodes well for our ability to make decisions moving forward," he said. "The reality is if you can have all the assets, resources and cap space in the world but if you get the decisions wrong, it doesn't really matter."
Toronto FC loses goalkeeper Sean Johnson for 4-6 weeks with broken hand

Toronto FC opens doors to Sebastian Giovinco, allowing ex-MLS MVP to use training facility

Toronto FC hopes to get some reinforcements ahead of derby match with Montreal
Another strategic shift under Hernandez is to send young talent like Perruzza out on loan.
"We need to establish some version of pathway for young players," Hernandez said.
Using loans also allows the team to showcase young talent with an eye to a future sale.
Hernandez, in his fifth season in Toronto's front office, made more than 300 appearances as a player in MLS over 14 seasons with the MetroStars (now New York Red Bulls), Chivas USA, San Jose Earthquakes, New York City FC and Toronto (where he played in the 2017 and '18 seasons).