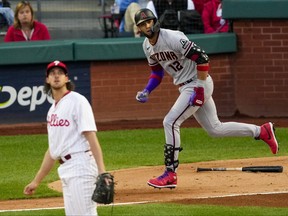 Article content
PHILADELPHIA  — Tommy Pham and Lourdes Gurriel Jr. hit back-to-back homers and Merrill Kelly struck out eight to help the Arizona Diamondbacks force Game 7 of the NL Championship Series with a 5-1 win over the Philadelphia Phillies on Monday night.
Article content
The winner of Tuesday night's game advances to the World Series against Houston or Texas, who played Game 7 of the AL Championship later Monday night.
Article content
"I'm expecting some fun. It's going to be fun," Kelly said. "Game 7, obviously, they talk about, it's the best words in sports. I think the fact that we're here, I don't think anybody thought we were going to take them to Game 6. I don't think anybody thought we were even going to make it to Game 1. I don't think anybody thought we were going to make it past Milwaukee, to be honest with you."
The Diamondbacks came ready in Game 6 to back up the bold pregame words from manager Torey Lovullo and tamed Phillies bats and the hostile home crowd.
"Getting there is really important, so we have that all-in mentality," Lovullo said ahead of Game 6. "We didn't come cross-country to get our asses kicked. We came here to play our best baseball game, and our guys will be ready to go."
Article content
The Diamondbacks came ready to go — and Kelly didn't want to leave.
Kelly retired Kyle Schwarber, Trea Turner and Bryce Harper in order in the fifth and the Diamondbacks ahead 4-1. When Kelly retired to the dugout, Lovullo told the right-hander he was done. Kelly, who had thrown 90 pitches, appeared agitated as he gestured with his glove as if to point out he struck out Schwarber and Harper in the inning and had much more in the tank.
"Getting through Schwarber, Harper and Turner right there in that fifth I figured I'd probably would be going out there for the sixth," Kelly said. "It kind of just caught me off guard a little bit. But that's Torey's job. My job is to pitch. His job is to make the decisions, and at the end of the day, I got to live with those decisions."
Article content
Four relievers combined to shut down the Phillies and stifle their rousing run of success at Citizens Bank Park. Philadelphia was forced to the first Game 7 in franchise history.
The Phillies were held to six hits and lost at home for the first time in seven home postseason games. They dropped Games 4 and 5 to Houston in the World Series but had won 11 straight postseason home games against NL opposition.
The Phillies sent Aaron Nola to the mound — a year to the day after they beat San Diego to win the NL pennant — in hopes of making it two straight trips to the World Series.
Nola was lights out in every postseason start, pitching against the backdrop that the pending free agent could be down to his final games with the Phillies. He was 3-0 with a 0.96 ERA in October.
Article content
Make it 3-1. The Diamondbacks, who lost the first two games of the NLCS, never had to worry about the kind of late-inning rallies that propelled them back into the series.
Nola allowed homers to Pham and Gurriel in almost the same spots in the left field seats, the first ones the longest-tenured Phillies player allowed all postseason.
A sign this wouldn't be Nola's night? Pham was benched for Game 5 because of a 1-for-13 effort in the NLCS. Back in the lineup, quieted a crowd of 45,000 towel-waving fans.
Nola walked light-hitting Alek Thomas, who hit a tying, two-run homer in Game 4, and Evan Longoria doubled for a 3-0 lead. Longoria, who played for Tampa Bay against the Phillies in the 2008 World Series, had been 1 for 12 in the series.
Article content
The Phillies had never trailed by more than two runs in the postseason until the second.
Kelly, who allowed three solo homers in a Game 2 loss, pitched his way out of trouble in this one.
He put two runners on in the first inning before striking out slumping Alec Bohm and retiring Bryson Stott on a shallow flyout. Kelly gave up an RBI single to Brandon Marsh in the second and put two on with two outs. Kelly then got Turner to swing at three pitches out of the zone to end the threat.
Ketel Marte stretched his postseason hitting streak to 15 games with a run-scoring triple in the fifth that built a 4-1 lead and chased Nola. He added an RBI single in the seventh off Orion Kerkering.
UP NEXT
RHP Brandon Pfaadt starts for Arizona and LHP Ranger Suarez for Philadelphia.
Recommended from Editorial
Ex-MLB pitcher arrested in connection with 2021 shooting that killed a man, wounded his wife

Rogers Centre interior looks gutted during construction