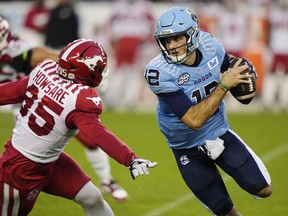 Article content
Javon Leake's club-record fourth punt-return touchdown earned the Toronto Argonauts a shootout 39-31 home win over the Calgary Stampeders on Friday night.
Article content
Leake returned Cody Grace's punt 86 yards for the touchdown at 7:19 of the fourth quarter to break a 31-31 tie. Leake entered the contest tied with Jimmy Cunningham (1995) and Bashir Levingston (2003) for most punt-return TDs in a season for Toronto.
Article content
Toronto (8-1) avenged its lone loss of the season, a 20-7 road loss to Calgary on Aug. 4. The Argos remain atop the East Division, four points ahead of the second-place Montreal Alouettes (6-4).
Quarterback Chad Kelly finished 20-of-31 passes for 360 yards and three TDs with two interceptions. He also ran for another as Toronto claimed a sixth straight win coming off a bye week.
Jake Maier was 25-of-42 passing for 384 yards and four TDs for Calgary (3-8), who've dropped three straight. Receiver Reggie Begelton had nine receptions for 203 yards and two touchdowns.
Article content
With the CNE in full swing outside BMO Field, a season-high gathering of 17,906 saw both teams put on a high-flying, offensive show with plenty of fireworks. After Calgary turned the ball over on downs at the Toronto 44 with 2:13 remaining, the Argos successfully ran out the clock to secure the victory.
Andrew Harris, Damonte Coxie and DaVaris Daniels scored Toronto's other touchdowns. Boris Bede added the converts, a field goal and single.
Marken Michel and Luther Hakunavanhu had Calgary's other touchdowns. Rene Paredes booted the converts and a field goal.
Kelly put Toronto ahead 31-28 with a 54-yard touchdown pass on a flea-flicker to Daniels at 5:08. But Parades made it 31-31 with a 27-yard field goal at 14:45 as the Argos also lost safety Josh Haggerty to injury.
Article content
Haggerty came on in the second quarter when veteran DaShaun Amos (ankle) was carted off and Royce Metchie moved to halfback. With Haggerty out, Canadian rookie Jonathan Edouard went to halfback and Metchie returned to safety.
Maier's 47-yard touchdown pass to Begelton at 1:59 of the third put Calgary up 28-24.
Kelly capped a back-and-forth second quarter with a 67-yard touchdown pass to Coxie at 14:06 that earned Toronto its 24-21 halftime lead. The two teams combined for 38 points in the quarter alone.
It was a roller-coaster half for Kelly and Toronto. Kelly was 13-of-20 passing for 247 yards with the two TDs but also was intercepted twice, one coming in Calgary's end zone to cap the Argos opening possession.
Coxie, who rejoined Toronto off the injured list, had 102 yards on three catches in the opening half.
Article content
Toronto accumulated 326 net first-half offensive yards – Calgary had 221 — but mistakes and sloppy play helped keep the Stampeders in the game. Maier was 13-of-21 passing for 207 yards and three TDs.
Maier's 39-yard touchdown pass to Begelton at 14:06 put Calgary ahead 21-17 at 14:06. Bede's 39-yard boot at 12:37 gave Toronto a 17-14 advantage..
Maier's 18-yard touchdown pass to Hakunavanhu at 10:23 tied the score 14-14. It came right after Toronto received a defensive procedure call on Parades' 31-yard field goal try that instead gave Calgary a first down at the Argos' 18.
Maier got Calgary on the board with a 65-yard touchdown pass to Michel at 6:08, cutting Toronto's advantage to 14-7.
Kelly's one-yard TD run at 4:51 to put Toronto ahead 14-0. He capped an eight-play, 78-yard drive that featured six rushing plays.
Harris opened the scoring with a nine-yard TD grab at 9:26 of the first.