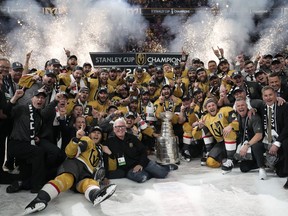 Article content
Jack Eichel felt like the clock was going in slow motion.
Article content
The Vegas Golden Knights were well on their way to capturing the franchise's first Stanley Cup in June — up 3-1 on the Florida Panthers in the series and 6-1 through 40 minutes of Game 5.
Article content
The teams then proceeded to combine for five goals in the third period, including Vegas captain Mark Stone completing a hat trick.
"The hats come out, that takes a long time," Eichel recalled. "I don't even think we waited until the buzzer to get on the ice … we were already over the boards.
"A lot of emotions."
Recommended from Editorial
SIMMONS: One-time pizza boy Brad Treliving hopes to deliver a Stanley Cup to Maple Leafs as their motivated GM

With Matt Murray out for months, Maple Leafs try to solidify depth in net
Having conquered the NHL in just their sixth year of existence, the Golden Knights are back at the bottom of the mountain with the league's 31 other teams heading into 2023-24.
Article content
And they're eager to start the climb anew.
"We have confidence in everyone in that room," Eichel said. "That's what makes our team special."
Vegas was able to find its game at the right time, but it was also an example of what's often needed to win in the modern game. The Golden Knights used no fewer than five goaltenders during the regular season before going eight deep with their defence corps in the playoffs.
"We utilized our depth," Eichel said. "We played four lines, we played all our defencemen. I think that's something that we feel really good about."
Eichel said the groove Vegas found in series victories over the Winnipeg Jets, Edmonton Oilers and Dallas Stars before sinking the Panthers is something teams chasing a title strive for.
Article content
"We were consistent, our special teams got better, our goaltending was great," he said. "We found our real identity."
Edmonton captain Connor McDavid, who dominated the stats page during the regular season and the NHL Awards, felt his team was right there with the Knights in their six-game battle.
It was another example of hockey's fine margins.
"Good lessons learned," he said. "It was a close series. It was highly competitive. "
Dallas winger Jason Robertson said his group, which also lost out in six contests to Vegas, saw the level required by making the third round.
"Doesn't happen often getting to the third round," he said. "Now you know what it takes."
RECOMMENDED VIDEO
No roster is ever the same, but the Golden Knights have most of the band back together as they look to repeat.
Article content
"Try and do a lot of the same, try not to put too much pressure on ourselves," Eichel said of the approach with the 2023-24 schedule set to open Tuesday. "We lifted a little bit of a weight last season and we should be able to play freely and utilize what we learned in that run to help propel us."
But the feeling of last season's triumph won't fade any time soon.
"You think about all the stuff you've been through," said Eichel, who forced his way out of Buffalo after a dispute with the Sabres over how to treat a significant neck injury. "Not only as a professional, but in your life to achieve the goal you've always dreamt of.
"It's really hard to describe. It's even harder to remember."
The Canadian Press takes a look at some of the other NHL storylines heading into the 2023-24 campaign:
Article content
MCDAVID'S NEXT TRICK
The face of the league decided before last season that he was going to focus on shooting the puck more.
The result?
McDavid went from 44 goals to a league-best 64 as part of his 153-point campaign — the NHL's highest total since the mid-1990s — on the way to another MVP performance.
So what's next on the docket? Deciding to become an elite defensive forward and winning the Selke Trophy?
"I mean, he probably could," said Oilers forward Leon Draisaitl, who finished second behind his teammate in points. "He's that talented."
But individual accolades have never been the focus.
"He's at a stage, just like me, where he wants to win and he'll do whatever it takes," Draisaitl said. "His points, his assists, his goals, they will come. They will fall into place because he's just too good not to. For him, it's all about winning."
Article content
McDavid added: "There's a lot that's been made, there's lots that's been said. This is a marathon and it takes everybody. It takes a little bit of good fortune as well."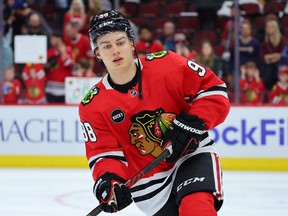 BEDARD BOUNCE
The Chicago Blackhawks won the NHL draft lottery for the right to select McDavid's heir apparent — Connor Bedard — with the first pick in June.
How a player described as the potential "Next One" since age 13 progresses through the 82-game grind should be interesting to watch after Bedard dominated junior hockey at the national and international levels last season.
"He's got all the tools," said McDavid, who skated with the 18-year-old over the summer. "He's got a good head on his shoulders.
"Gonna be a good one."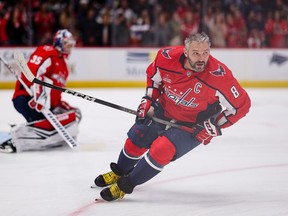 OVIE'S PUSH
Alex Ovechkin starts the campaign with 822 career goals, just 72 back of Wayne Gretzky's all-time record of 894.
Article content
The Washington Capitals star is unlikely to get there this season, but he can make a significant dent in the total before aiming to set a new high-water mark in 2024-25.
SOME GAMES TO WATCH
Bedard will make his NHL debut on Tuesday when Chicago visits Sidney Crosby and the Pittsburgh Penguins, while Vegas will raise its Cup banner later that evening before hosting the Seattle Kraken.
The Oilers and Calgary Flames are set to play the Heritage Classic outdoors on Oct. 29 at Edmonton's Commonwealth Stadium.
Former Canucks captain Bo Horvat is slated to return to Vancouver as a member of the New York Islanders on Nov. 15, while the Panthers and Knights will tangle for the first time since the final on Dec. 23.
Vegas will head to Seattle for the Winter Classic on Jan. 1, the Montreal Canadiens are set to play their 7,000th regular-season contest on Jan. 27 and the Maple Leafs host the first all-star game in Toronto since 2000 on Feb. 3.