Get the latest from Lance Hornby straight to your inbox
Article content
Relaxing in the 'dream seats' of the MasterCard Club Lounge this week, touring Scotiabank's $350-million facelift, with cocktail and macaroons in hand (hey, someone's gotta do it), the mind wanders to what the view was like for the first fans of NHL hockey in Toronto.
Article content
In 1999, as the Gardens closed and the Maple Leafs relocated to the Air Canada Centre, I was very fortunate to meet Leafs 'Super Fan' Tommy Gaston, through Hockey Hall of Fame historian Kevin Shea.
Article content
Then in his 80's, Tommy was a Hall 'greeter' for guests, a walking encyclopedia of the early NHL and part of a select few to have watched the Leafs in all three of their homes, starting with the Mutual Street Arena.
The National Hockey Association 'Blueshirts' were the rink's principal tenants and on Dec. 22, 1917, the inaugural NHL entry of the same name debuted with an 11-4 thumping of the Ottawa Senators.
Gaston told me of attending a game there around Christmas 1930-31 when he was 12 years old and money was scarce as the Great Depression had sunk its teeth into the city.
Article content
"It was a small brick building near Shuter Street, it held about 7,000 or 8,000. The seats were like benches or church pews."
Sections were painted blue and red and had exterior corresponding-coloured lights to guide patrons.
"The one game I remember was against the Montreal Maroons (when the Leafs logo wasn't yet three years old, while the Maroons were Montreal's 'English' team). The Conacher brothers, Lionel (Maroons) and Charlie (Leafs), squared off in a fight and it kept going in the penalty box."
In Gaston's memoir, 'A Fan For All Seasons', written with Shea, he also spoke of Mutual's oval-shaped end zones, one for cheap bleacher tickets with tiers of standing room.
"Chicken wire kept those people from moving (down to regular seats)."
Article content
The story goes that the name Mutual St. itself derived from being equidistant from two prominent family homes in Muddy York — the Jarvis and McGill clans.
The first structure on the site was the Caledonia, a curling venue in the late 19th century. In 1887, the neighbouring Granite Club on Church St. were gifted some hockey sticks from Montreal, where the sport had already proven popular, and challenged the Caledonians in what became the first organized and documented game in city history.
The curling rink came down in 1911, with Toronto's growing population — about 380,000 at the time — expressing desire for a major indoor exhibition hall for concerts, bicycle races, horse shows and, yes, hockey.
The Toronto Arena Company, originally headed by Sir Henry Pellatt of Casa Loma fame, built what was formally called the Arena Gardens for under a half-million dollars at the time, installing the pipes for the first artificial ice in Eastern Canada.
Article content
It had a skylight (perhaps you've seen the beautiful backlit photo of the rink at The SPORT Gallery in The Distillery) and 14 exits for spectators to come and go in orderly fashion.
The Nathan Franko Orchestra was its opening night draw and silent movie comedienne Marie Dressler, born in Cobourg, Ont., was at its gala opening week of concerts.
But the ice wasn't ready for the 1911 NHA season, so the two local teams meant to play there, the Torontos and Tecumsehs, had to idle for a year. The Torontos finally played the Montreal Canadiens on Christmas Day, 1912.
Out of a convoluted ownership situation with several Toronto and Canadian army teams coming and going in the war years, evolved the Blueshirts. They became champions of the six-team NHA in 1914 and won the Stanley Cup from the Victoria, B.C., Aristocrats in three games, all played in Toronto.
Article content
Some enthusiasts have wanted a Cup banner for the Blueshirts hung at Scotiabank in recognition of the forgotten title, if for no other reason than to have a ceremony after 57 years of a Leafs drought.
Behind the NHA hockey scenes, a battle was raging between maverick Blueshirts' owner Eddie Livingstone and the rest of the league. To finally rid themselves of Livingstone, fellow owners dissolved the NHA in 1917 and formed the NHL. But the two Montreal entries, the Canadiens and Wanderers, as well as the Senators, didn't want to leave Toronto without a team, and awarded a franchise to the Arena Company.
It was at this Gardens, not Church and Carlton, where many Toronto hockey inceptions were witnessed, such as the first NHL Cup in 1918 for the team that had adopted Arenas as its monicker. There were also the team's first three-goal games the same night (the term hat trick was not yet coined) by Reg Noble and Corb Denneny and Foster Hewitt's first radio broadcast was from Mutual St. in 1923. The place would host four Stanley Cup finals and nine Memorial Cups in its time.
Article content
The Arenas were bought in 1919 by a group including future Gardens president J.P. Bickell and re-named the St. Patricks to lure many Irish residents to its games. Top o' the morning for the Pats at Mutual was the 1922 Cup. But the team's falling on-ice fortunes, lack of crowd space and poor finances soon put it in danger of being bought by American interests.
When Conn Smythe put together his investors to purchase the Pats in 1927 and stave off a move to Philadelphia, renaming them the Maple Leafs, he was already envisioning a palatial new home elsewhere in town.
As the new Gardens was being erected early in '31, many Leafs would wander over from Mutual to watch its progress.
"Where they gonna find the people to fill this place?" wondered defenceman King Clancy as he stood at centre ice of the unfinished 13,000-seat dome.
Article content
As the Gardens prepared to go operational, Smythe came over to Mutual and offered jobs to many of its maintenance staff. Several walked away on the spot, the ice melted and that was it for the Arena as a hockey entity.
It survived as a concert hall and general-purpose venue with athletic events and attractions, such as the Glenn Miller Orchestra and a young crooner named Frank Sinatra.
During ensuing decades, it reverted to curling and, in 1962 as The Terrace, a popular roller-skating spot for teens. The building survived until 1989, one of the first sacrificed for the condominium boom.
ONCE A LEAF
Featuring one of the more than 1,100 players, coaches and general managers who have played or worked in Toronto since 1917.
Article content
Winger Darby Hendrickson
Born: August 28, 1972, in Richfield, Minn.
Numbers worn: 37-16-14
Seasons: 1994-99
Games played: 233, 27 goals, 20 assists, 47 points, 195 PIMS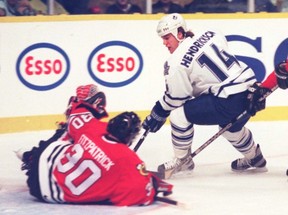 THEN
While very proud of his nickname 'Mr. Minnesota' — born, raised, schooled, later a player there with the Wild and now their assistant coach — Hendrickson spent his formative hockey years in the Leafs organization.
"So many people keep reminding me how fortunate I was to play there," Hendrickson said ahead of a return visit Saturday when the Wild face the Leafs. "I loved my time in Toronto and I still have connections there.
"It starts with the coaches. It's incredible to think Pat Burns was my first, that Marc Crawford was in St. John's when I was there, Pat Quinn at the end and when Cliff Fletcher brought me back a second time, Mark Hunter was the coach in Newfoundland.
Article content
"I try and stay in touch with my old friends on the team such as Dave Ellett, Doug Gilmour and Matt Martin (the American defenceman, not the truculent winger). Doug was really nice and had me over to his place for Christmas.
"Living in Toronto reminded me a lot of Minnesota. You'd drive around and there were street hockey games going on all the time."
A hustling two-way centre/winger and fourth-round 1990 draft pick, Hendrickson finished at the University of Minnesota in 1993, spent a year with the U.S. Olympic program and was freed for NHL duty in the spring of 1994.
After a great showing in St. John's, he debuted in a playoff game for the Leafs, a 1-0 win in over the Blackhawks in the last game at old Chicago Stadium.
"It was fun to just jump right into the NHl in a game like that."
Article content
Almost 30 years later, another Minnesota Golden Gophers star, Matthew Knies, made a post-season impact for the Leafs with only three regular-season games.
After 54 games, which included the lockout-shortened '94-95 season, Hendrickson became part of a blockbuster deal. He, defenceman Kenny Jonsson and Toronto's first pick, went to the Islanders in a package to return Wendel Clark after the Mats Sundin trade two years earlier. That selection became Hall of Fame goaltender Roberto Luongo.
But general manager Fletcher always liked Hendrickson's hustle and brought him back within the calendar year. One of his primary roles became centring Tie Domi and Kris King, which certainly gave him a sense of safety when scaring opponents in the corners or when rough stuff flared up.
Article content
"We certainly had the puck a lot, it was just hard for us to get shots on net," Hendrickson said with a laugh.
In his last seasons as a Leaf before associate GM Mike Smith traded him to Vancouver in 1999, Hendrickson wore No, 14. While many criticized the Leafs for keeping the great Dave Keon's number in circulation at the time, Hendrickson recognized its significance.
"Dave Andreychuk had it before he was traded and when he saw me with it, said 'you'd better always wear that number with pride.'
"I knew Keon was one of the best and I've kept all my Toronto sweaters at home. I felt I really grew up there."
NOW
Hendrickson got to finish the bulk of his career with the expansion Wild including a great playoff run in '03 when he appeared in 17 games. He was briefly with the Colorado Avalanche, then lit it up for Salzberg in the Austrian League a couple of years up to '07.
Article content
After doing some work for the NHL Players Association, a job that allowed him to re-connect with friends in Toronto while at its head office, Wild GM Chuck Fletcher asked him to work for the team's hockey department.
"He wanted me part time, I wanted full time and Chuck honoured that," Hendrickson said of a job that morphed into his current role on head coach Dean Evason's staff, overseeing the forwards.
Hendrickson and wife Dana have four children, all of whom are into athletics, including Beckett, a centre like his father and a fourth-rounder who was picked by the Boston Bruins in June. Beckett will move from Sioux Falls in the USHL to school in Minnesota next September.
"It's great he's going there, but you just want all your kids to be happy."
Article content
FAVOURITE LEAFS MEMORY
"That has to be my first game in Chicago, with all the excitement (of the playoffs and the 65-year-old Madhouse on Madison closing).
"It was a whirlwind, seeing famous people around the team such as Darryl Sittler, talking to Burns. But it was Doug who stood out, taking time on a busy day like that to talk to a new kid.
"I remember Mike Gartner getting our only goal. I kept my stick from that game for years, then it was accidentally given away by someone to my high school coach. When he realized it, he gave it back, but it was already cut down and re-taped so it wasn't the same. At least it was a funny story."
LOOSE LEAFS
Gilmour, Clark and Keon will be among the guests during the Sports Card Expo in Toronto, Nov. 9-12 at the International Centre in Mississauga, along with Bryan McCabe, Vincent Damphousse and former NHL and Toronto Toros goalie Les Binkley … The huge reno at Scotiabank Arena will include another incarnation of the Hot Stove Club, which goes back to the Gardens and Hockey Night In Canada's early radio days with the Hot Stove League.
THIS WEEK IN LEAFS HISTORY
Saturday marks 45 years since the Leafs rang up a 10-7 home-opener win over the Islanders, which they'd just eliminated that spring in playoffs. It was the second-highest home output in Game 1 to an 11-4 win over the Ottawa Senators at Mutual Street Arena in 1917 … Thirty years ago, Felix Potvin was NHL player of the week for a 3-0-0 run and 1.67 goals-against average … Retired Leaf Rocky Saganuik turns 66 on Sunday.
Got a question, comment or want to see a former Leaf profiled? Drop a line to [email protected]