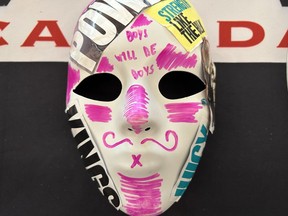 Article content
CALGARY — The outside of the mask was decorated with the words "boys will be boys, power, kings." The inside read "pain, suicidal, need love."
Article content
Another mask read "smart, focused, money" on the exterior, and "angry, unsure, bi" on the interior.
Article content
The masks, created by university hockey players — some who played major junior — were a research project presented Friday at Hockey Canada's Beyond The Boards Summit.
The two-day summit tackled elite men's hockey, which dominates the sport's culture in Canada, and the toxic masculinity in it that can also breed racism, sexism and homophobia in the game.
The masks, which were distributed among the tables in the conference room for examination, were intended to demonstrate what toxic masculinity does to men in the game.
"Those are conversations men aren't able to have," said researcher Teresa Fowler, an assistant professor at Concordia University of Edmonton.
Article content
The closed door of the hockey locker room and the pressure to conform to the behaviour in it, as well as violence equated with toughness were among the themes kicking off the summit that concludes Saturday.
"The men in our study were told (they) have to do things against (their) constitution," Fowler said. "One of the players knew he would have to fight, so he couldn't sleep and was drinking on the plane and doing whatever he needed to do to cope."
The summit's audience of 160 people included leaders from minor and professional hockey, including the NHL and International Ice Hockey Federation. Workshop sessions and panel discussions were closed to working media.
Hockey Canada is under pressure to change its culture and that of hockey following reports and allegations of sexual assaults and hazing in the game.
Article content
One of the tamer examples of hazing presented Friday was a rookie initiation in which a male player was made to wear a dress with the intent of making him feel inferior to the rest of his teammates.
Coaches using sexual terms or female anatomy in pre-game chalk talks was another example given of sexism in men's hockey.
Fowler presented a history lesson in which Canada's history of white colonization and hockey were intertwined.
"What we have is an elite male hockey culture that has been modelled off of the pioneering spirit of colonization, which intentionally marginalizes those not a part of the dominant culture," she explained.
"This same practice of gender discrimination, indoctrination and assimilation continues, through traditions of hazing rituals, rookie parties, grooming, and the other cultures that reside in elite men's ice hockey, the bro code, the locker room code, the culture of silence, and the expectations to adhere to this particular and violent brand of masculinity to be successful in men's ice hockey."
Article content
For Katherine Henderson, the former head of Curling Canada who replaced Scott Smith as Hockey Canada's president and chief executive officer, the summit was her first official event within her first week on the job.
"Our plans might mean that we will have to rethink some of the things that we hold dear, and believe to be true or an intrinsic part of hockey," Henderson said in her opening remarks.
"The summit is about one step to understand a problem and begin to map out where we need to go, who needs to be on, and frankly, who needs to get off the bus."
Former NHL player and sexual abuse survivor Sheldon Kennedy, now an internationally renowned advocate for child abuse prevention and education, was among the summit's speakers.
Article content
RECOMMENDED VIDEO
"We are talking about generations of systemic silence, the fear to speak up, the fear to be who you are, fear to walk out of line, the fear to say you're hurt," he said.
"This is about leadership walking the walk. We have to start holding people accountable when we're not walking the walk.
"This is a critical time for hockey to dig in, to be honest, gut-wrenching honest with themselves and get this right."
Hockey Canada intends the summit to be one in a series with others tackling the aforementioned racism, sexism and homophobia.
The organization came under a firestorm of criticism last year when it became public that Hockey Canada had settled a lawsuit with a woman alleging she was gang raped by members of the national men's junior team at a gala in 2018.
Article content
The allegations have not been proven in court. Revelations that a portion of minor hockey registration fees were used to settle such lawsuits fuelled the furor, and Hockey Canada lost sponsorships in the fallout.
Hockey Canada's board has since been overhauled with retired Ontario judge Hugh Fraser elected chair.
"Change takes time. I'm very confident that the will is there to remove these things that have held people back," Fraser said.
"Some of these are societal issues. They're not unique to hockey, but we think we have a responsibility and a leadership role to play to help show a better path."