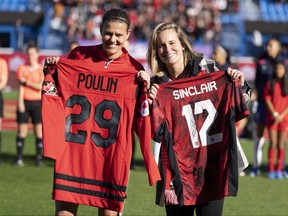 Reviews and recommendations are unbiased and products are independently selected. Postmedia may earn an affiliate commission from purchases made through links on this page.
Article content
Minutes after the final whistle of Canada's 1-0 loss to Brazil at Montreal's Saputo Stadium, Christine Sinclair was doing sprints with fellow substitute Deanne Rose.
Article content
Even with the clock winding down on her international career, the 40-year-old from Burnaby, B.C., is doing her best to keep it business as usual. Even if it isn't.
Article content
The Canadian captain kicked off her farewell tour with a 22-minute cameo off the bench Saturday, the last of four substitutes employed by coach Bev Priestman. It was cap No. 328 for Sinclair — only her 16th as a substitute but her third in her last four games.
Sinclair will undoubtedly get a bigger role in December when she calls time on her Canada career in her backyard with games against No. 11 Australia on Dec. 1 at Langford's Starlight Stadium and Dec. 5 at Vancouver's B.C. Place Stadium.
First up is a rematch with the ninth-ranked Brazilians at Halifax's Wanderers Ground on Tuesday.
Article content
Priestman suggested after the Montreal game that combining preparing a team for the Paris Olympics and honouring Sinclair in her final games in Canada colours involved some delicate give-and-take.
"She will feature (in the remaining games), that's definite," Priestman said. "You don't want to get this wrong as a coach, (you want) to give her the sendoff that she deserves. And not out of pity either. I actually thought it was a game in which we needed Christine. They (the Brazilians) were pressing. (Her) height and her ability to control play, I felt we were lacking a little bit of that anyway.
"So fans will get to see Christine for sure. So it will be, like I said yesterday, a balancing act of seeing life beyond Christine and getting Christine into the game. But it certainly doesn't take anything away (from her)."
Article content
Sinclair, who plans to play one more season with the Portland Thorns, came in at a time when the Brazilians were in ascendancy. And she was unwittingly involved in the buildup to the Brazil stoppage-time goal before a lively sellout crowd of 19,619.
Sinclair won the ball back in the Canadian half and passed it to Rose, who was swiftly dispossessed by an onrushing Brazilian. One pass later the ball was in the back of the net thanks to a double deflection of Debinha's shot from distance.
The ball hit Kadeisha Buchanan's thigh then Vanessa Gilles' arm and past a diving Kailen Sheridan, who managed to change direction and get a hand to the ball but could not stop it.
"(I'm) a little bit gutted to have a double deflection," said Priestman. "Kailen's good but maybe not that good.
Article content
"To be honest, we should have put the chances away that we did get," she added. "I said to the players that that goal at the end doesn't matter then if you put your chances away."
Sheridan had put on a shot-stopping clinic prior to the goal. And Gilles had a glorious chance earlier in stoppage time in a goalmouth scramble off a free kick, only to see goalkeeper Leticia come up big for Brazil
"I feel like I probably had it (before the deflection). I thought I might have had it with the deflection at the end," said Sheridan, a finalist for NWSL goalkeeper of the year. "I just couldn't get my foot stuck in the ground again after I took off."
The ninth-ranked Brazilians turned it on as the clock wound down but were unable to beat an acrobatic Sheridan until the end. Brazil, in its first game since the World Cup and under the guidance of new coach Arthur Elias, outshot No. 10 Canada 15-9 (9-3 in shots on target).
Article content
Sinclair lingered on the field after the game, signing autographs and mingling with fans who cheered her like a rock star when she came on.
"I think we all get a little chill when we see Sinc coming in or going out," said Sheridan. "You could definitely feel it in the stadium today. This country bleeds and dies with Sinc and I think we all do. I think that's just a testament to who she is, not just as a soccer player but as a human being and everything she's done for athletes and women in this country.
"It'll live long past her and that's a legacy that she should be really proud of. We're really proud of our friend but we have three more games in this beautiful country to say goodbye to our hero."
Priestman joked her team might miss its plane to Halifax because of the number of fans clamouring to get Sinclair's autograph or a selfie with the world's all-time leading goal-scorer (at 190).
Article content
"That's unbelievable to see because normally she doesn't like that level of spotlight. But she's enjoying every moment of it. There were banners, there was great applause for her and I think she deserves that."
Loving it may be an exaggeration. Sinclair, whose news conference Thursday lasted less than 13 minutes, prefers to do her talking on the pitch and avoid attention off it.
She did not speak to the media after the game.
Midfielder Jessie Fleming, seen as Sinclair's heir apparent to the captaincy, led Canada out Saturday but had to leave in the 22nd minute, the victim of an apparent migraine. She handed the captain's armband to Chelsea teammate Buchanan.
The last women's national team game in the Maritimes was in May 2012 when Canada defeated China 1-0 in Moncton, N.B.