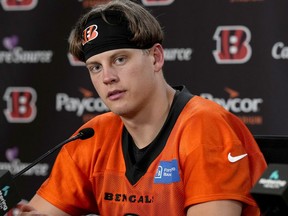 Article content
CINCINNATI (AP) — Cincinnati Bengals quarterback Joe Burrow became the highest-paid player in the NFL on Thursday, agreeing to a five-year, $275 million contract extension, according to a person familiar with the deal.
Article content
The contract includes more than $219 million guaranteed, said the person, who spoke on condition of anonymity because it hadn't been announced.
Article content
The deal, which will pay Burrow an average of $55 million a year, puts him ahead of other top quarterbacks in the league who signed new contracts in the offseason.
Beloved and teammates and fans in Cincinnati, Burrow has reversed the fortunes of the franchise while earning a reputation as a decisive and creative leader with a knack for figuring out how to pick up yards when plays break down.
Signing the 2022 Pro Bowler and 2021 AP NFL Comeback Player of the Year to an extension was a goal of the team this summer, but the deal wasn't finalized until three days before the Bengals' season opener at Cleveland.
Article content
"This is where I want to be my whole career," Burrow told reporters on Wednesday. "You've seen what the front office has done and what (coach) Zac (Taylor) has done in their time here. I'm a small part of that. I'm excited to be a part of that. And we have great people in the locker room that grind every day, that are excited to go and showcase their talents and excited to go and do it in the city of Cincinnati."
Burrow has led the Bengals to two straight AFC North titles and a Super Bowl after the 2021 season, a 23-20 loss to the Rams. Cincinnati finished 12-4 last year, with Burrow setting franchise single-season records for completions, pass attempts and passing touchdowns.
Burrow had season-ending knee surgery in 2020, his rookie year. He immediately became one of the NFL's best passers upon his return. The notoriously frugal Bengals had not reached a Super Bowl since 1998 or even recorded a playoff win since 1990.
Article content
Burrow strained a calf muscle early in this summer's training camp and was out of action until last week. He said Wednesday he's on track to start against the Browns on Sunday.
The market for quarterbacks was set for Burrow in late July when Los Angeles Chargers QB Justin Herbert agreed to a five-year, $262.5 million extension.
Herbert's total value and $52.5 million average per season surpassed the $260 million, five-year extension ($52 million average) that Baltimore's Lamar Jackson signed in April. Deshaun Watson agreed to a fully guaranteed $230 million deal with Cleveland in 2022.
Kansas City's Patrick Mahomes is in the third year of a 10-year contract worth $450 million, the largest overall deal for a quarterback.
Article content
Cincinnati picked up the fifth-year option on the 26-year-old Burrow's rookie contract in April ahead of the expected megadeal, which wasn't as quick to get done as both sides would have preferred.
Bengals owner Mike Brown said a year ago that the team had begun restructuring finances in order secure a long-term deal for Burrow. The Bengals cleared more salary cap space when running back Joe Mixon accepted a restructured deal and pay cut this month.
With Burrow locked up, the Bengals can turn their attention to other players, including wide receiver Tee Higgins, who is also eligible for an extension. Linebacker Logan Wilson agreed to a four-year extension last month worth up to $37.25 million.
Star receiver Ja'Marr Chase will be eligible for an extension after this season. Higgins and Chase both will command salaries that put them among the highest-paid receivers in the league.